Close your eyes for a moment, and imagine vibrant green shades interspersed with colorful flowers and clinging to craggy peaks and adorning lush valleys. In your mind's eye, see the blue topaz waters and smell the salt in the air as the waves crash onto pristine shores. "Aloha."
Are you feeling the irresistible lure of the islands drawing you to make this fanciful moment a reality? Let Frank Clark of
Real Select Vacations
help you find the perfect Waikiki vacation destination. Explore these luxurious options for the getaway of a lifetime, whether you are planning a family vacation or a romantic honeymoon escape to paradise.
Luxury in the heart of Waikiki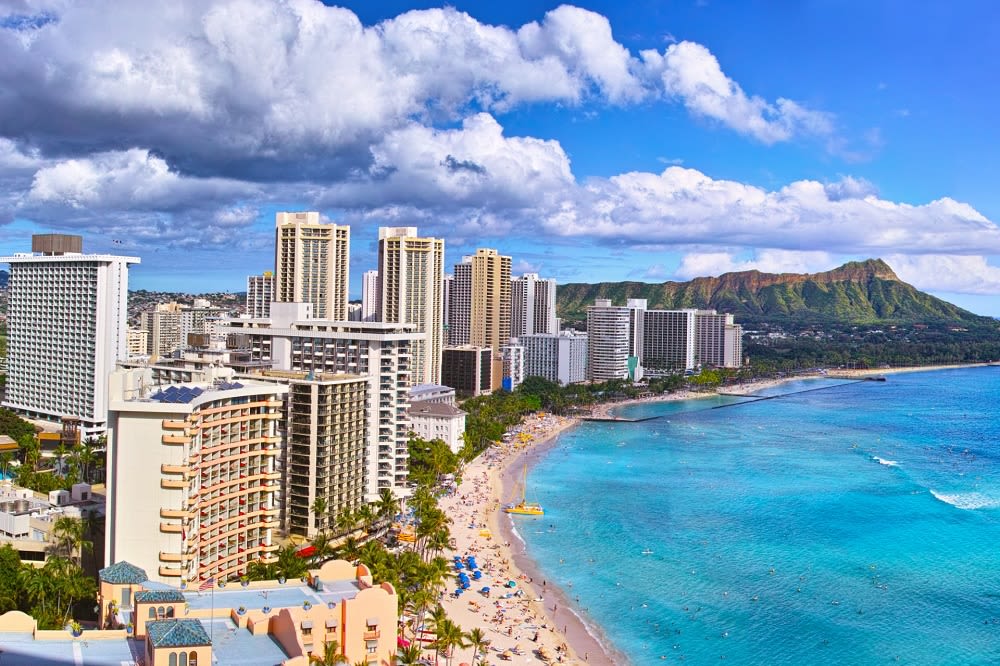 Photo courtesy of Shutterstock
Set against the background of
Diamond Head
, the graceful arc of white sand beaches of Waikiki once offered Hawaiian royals a place to play. Generations later, as word traveled back to the mainland about this beautiful place, Hollywood celebrities rushed to experience a taste of paradise. For over 100 years, tourism has been the mainstay of the south coast of Honolulu, and an extensive number of Waikiki vacation rentals attest to its popularity.
Nearly all visitors to Oahu will stay in Waikiki, and the area offers every amenity needed to fill your vacation days with fun. Learn to surf in the same waters in which
Duke Kahanamoku
originally made the sport world-famous. Take the family out for a day of exploration at the
Honolulu Zoo
or
Waikiki Aquarium
. Explore boutique shopping, fine dining, and the
International Market Place
. After dark, enjoy a wide variety of venues offering great atmospheres, tropical drinks, and live music.

Of course, you can always opt for the slower pace of a day on the beach, lounging on the sand, or taking a dip in crystal clear waters.
Here among the Waikiki vacation rental options stand the regal Ritz Carlton, a name known globally for its sophistication and service. The
Ritz Carlton Waikiki
entices guests to indulge in extended stays as they immerse themselves in luxurious comfort. Instead of offering traditional hotel rooms, premium ocean view suites grace the upper floors of the hotel, offering ample space for living and dining in style against the backdrop of breathtaking ocean views. Both two and three-bedroom suites are available to accommodate your needs.
At the Ritz Carlton Waikiki, you can relax beside elevated infinity pools and sample
globally inspired cuisine
in both fine and casual dining settings, such as Dean and Deluca, Sushi Sho, Quiora, or La Vie. Let skillful masseuses knead your cares away at the
Ritz Carlton Spa
. Ask the concierge to book you a tee time at Greg Norman's
Royal Hawaiian Golf Club
or for recommendations for excursions.
Step into another world
Only 30 minutes from the Honolulu airport, a collection of resort hotels and villas co-mingle with the rich biodiversity of Hawaii's tropical beauty. This is
Ko Olina Beach Resort
. Four sheltered lagoons gentle the waters and give visitors the sense of having uncovered a marvelous secret. Traveling between the lagoons is easy along a postcard-perfect path and with rewarding vistas. Ko Olina Marina offers numerous options for sailing, sunset cruises, and other aquatic excursions. Among the resorts, there are 29 fantastic restaurants to satisfy every palate.
Four Seasons Resort
Tastefully appointed with a Hawaiian style of decor and sleek design, the
Four Seasons Resort
boasts panoramic ocean views throughout its facilities. Choose from among five different restaurants without ever leaving the hotel.
Naupaka Spa and Wellness Center
will rejuvenate your senses and help you leave your cares behind. From the hotel's private beach, enjoy snorkeling or learn to paddle an outrigger canoe. Want to take in the entirety of the island from a new vantage point? Book a private helicopter tour and find yourself astounded that no pictures you've seen of Oahu could have done its beauty justice.
Aulani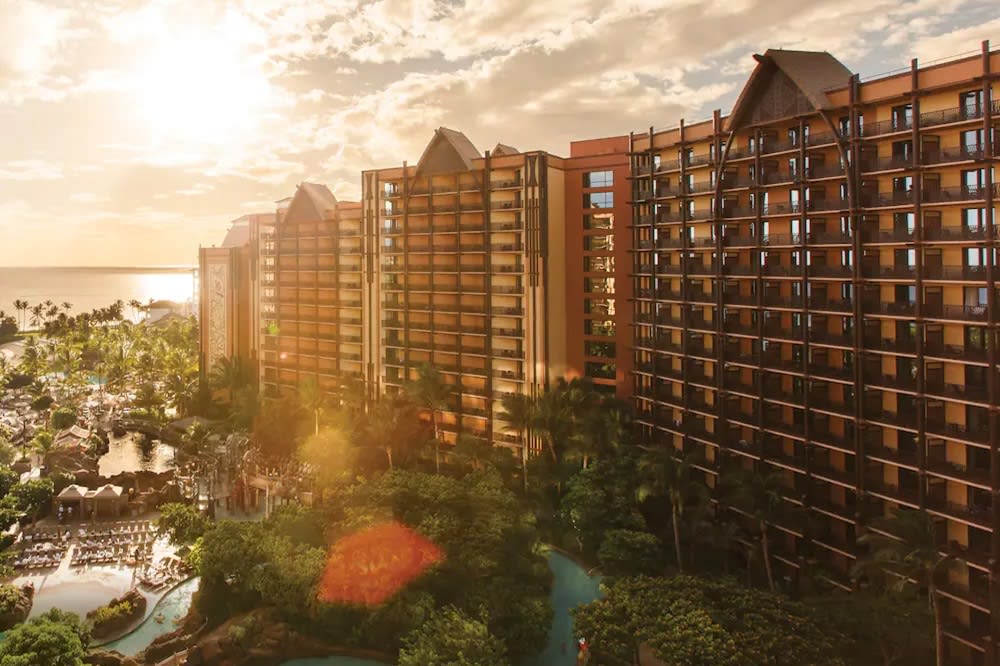 Photo courtesy of Aulani
Disney's magic in a tropical resort? Yes, please! This is the Ko Olina Beach destination for families.
Aulani
has built a reputation for outstanding service and entertainment options, the trademark of the Disney experience. Here, there is something for every member of the family to enjoy. Children will enjoy visiting Auntie's Beach House, while the teens will prefer to hang out at the Painted Sky Teen Spa. Rendezvous with the whole family for waterside fun, including multiple pools and slides. If you're feeling a bit more adventurous, plan a dolphin encounter, a zip line excursion, or take kayaking or surfing lessons. Say hello to all of your favorite Disney friends at a themed breakfast with character appearances. Take advantage of the Disney PhotoPass to capture every moment of your time at Aulani, or book a family portrait session with the professional photographers on site.
Beach Villas at Ko Olina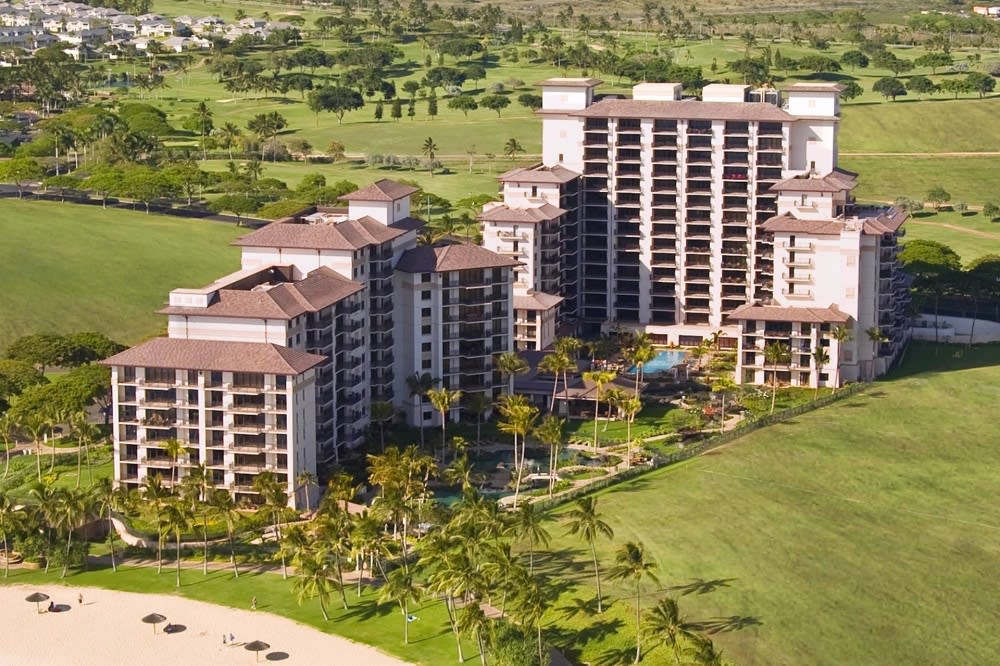 Photo courtesy of Ko Olina Hawaii
The
Beach Villas at Ko Olina
meld luxury resort accommodations and family vacation into one unforgettable package. There are two categories of suites available, those offering partial or complete ocean views. The Villas come with two and three-bedroom options, and there are multiple pools geared towards your group's interests. Looking for peace and quiet or a place to swim laps, or perhaps you'd rather frolic with the kids? There's sure to be a poolside location perfect for you. The activity desk on site is your one-stop location for planning excursions throughout the island. Signature activities include a sunset dinner cruise and a catamaran snorkeling tour.
Marriott Beach Club
The suites at the
Marriott Beach Club
are the perfect size for groups of six to eight guests. Along with three heated pools, including one specially designed for children, there are programs and activities to fill your days with memorable adventures. Experience exquisite pampering in the open-air cabanas at
Spa by the Sea
, or enjoy their services in a private room. Take the children out for a day of fun at nearby
Wet 'n' Wild
. And, no trip to Hawaii would be complete without a Polynesian-style feast. Be sure not to miss the Fia Fia Dinner Show on Tuesday nights!
Clear your calendar
Whether your idea of a perfect Hawaiian vacation is enjoying all of the attractions and amenities in the heart of Waikiki Beach or leaving your cares behind at a more secluded Ko Olina resort, the vacation of a lifetime awaits you and your family on Oahu. Give
Frank Clark
of
Real Select Vacations
a call today for expert advice for your Hawaiian vacation. He will find you the perfect home-away-from-home, so all you have to decide is what to pack!

*Header photo courtesy of Pexels